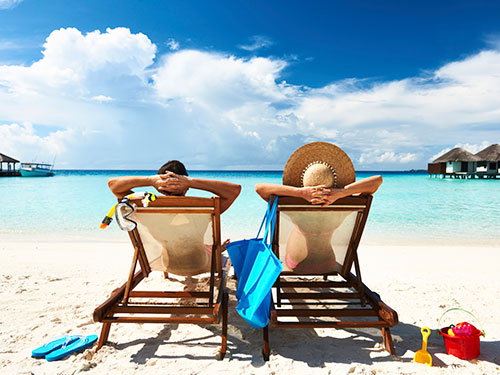 Recently, it was reported on TODAY, that we are taking less vacation days than ever – as many as 16 days less than 15 years ago. Experts now believe that the result of this work more/play less trend, could be detrimental to your relationships.
According to Dr. Sue Varma, a clinical assistant professor of psychiatry at NYU Langone Medical Center, "A lot more Americans now are working harder than ever. When it becomes a pattern, you start to burn bridges with key relationships in your life."
In a recent study, respondents admitted skipping children's activities, birthdays, and vacations to work more.
Dr. Varma goes on to say, "A lot of people are finding this a tug of war between family and fun and friends. We don't see time as a resource."
If this has you saying, "OK, I give! I'll take a few weeks of the 300 days I've accumulated off! Your next hurdle is – SHOULD I STAY OR SHOULD I GO?
STAYCATION OR VACATION
There is much to consider with both. I will begin with the more conventional – preparing for a traditional vacation.
First, you must choose a destination (for example, you might decide you want to stay in somewhere like the Crowne Plaza hotel Chicago). If you'll be travelling out of the country and need a passport, processing time for routine applications is approximately 4 to 6 weeks. If you should need it quicker, there is an expedited service that will bring you your passport within 8 business days – for an extra fee, of course.
Have you thought about how you are going to get to your destination though as well? Like will you be taking a car, a plane or even a ferry? If you travel a lot though, you might be interested in taking a look at a company like NetJets as they can help you travel more comfortably and in style.
Location, Location, Location! The world is your oyster – so pick away – with caution. Keep in mind, there are places on this big beautiful planet where natural disasters seem to cluster. Earthquakes, typhoons, and tsunamis – do you really want to be the next spotlight with The Weather Channel's Jim Cantore? And where terrorism is difficult to predict these days, there are hot spots to be avoided.
One thing to remember when picking a location, there are just as beautiful destinations in the US as there are anywhere in the world. If you choose to go to another country you do get to see a new country but you do have to pay for flights, exchange currency, etc. If you stay in the US then you can look at the best so-cal rafting trips to take and the best places to see spectacular scenery without having to worry about all of that!
How about your destination's financial stability? Very recently vacationers traveling to Greece were left without funds, as were their citizens.
Now that you know where you're going, if you're traveling internationally, especially to developing countries and rural areas with higher health risks, it is important you are up to date on all routine vaccines, as well as travel vaccines. Sadly, contrary to what you've seen in the movies, not every mishap will turn you into Spiderman. To find out vaccine recommendations and requirements for your travel destination go to:
http://wwwnc.cdc.gov/travel/destinations/list
When it comes time to pack, you will need to be cautious. Airlines today have become mighty persnickety about the weight of your checked baggage. It's important that they weigh 50lbs or less or a fine will be assessed, the amount, depending on the airline. The highest I found was JetBlue who charges $100 at pound 51- with absolutely zero wiggle room. Other airlines ranged from $25 – 75. Which would almost bring one to think, do I really need 14 pair of shoes for a 14 day trip? (I do, I do, I do!)
Some checked luggage is subject to specific fees regardless of dimension or weight. Items such as bikes, surf-boards, gulf clubs, and fishing poles are checked at a flat fee starting at about $100.
Now let's deal with the car you may have to rent if you're not meeting family or going to an area with mass transportation. You'll be immediately bombarded with questions – some of which an affirmative answer will add hundreds to your final bill. There are generally three requirements to rent a car: a major credit/debit card in the primary drivers name, a drivers license and to be older than 21. When it come to size – it matters – if you don't understand what they are offering you, take the time to go on line and look at pictures. It could mean not having to squeeze your family of 8 into a clown car or having you and your significant other traveling in an oversized church van.
The most important thing you need to remember is YES – you do need insurance, but you most likely DO NOT need to buy it from the rental company. First, check your existing auto policy. It may cover your car rental the same way. To be safe, check with your agent. Second, check with your credit card company. Some, such as American Express, provide secondary coverage that will cover it. Why pay for the same thing twice?
HOTELS – What can I say other than READ THE REVIEWS!! And then heed the reviews! Please, haven't we all watched enough movies written around creepy hotel rooms? Don't we all sit in theaters or home saying, "Those fools, I would have never stayed there!" Yet, we do.
The latest threat that has very literary come back to bite us in the butt is the dreaded bed bug. So, if you've retained nothing I've written so far, pay attention now.
DO NOT BRING YOUR LUGGAGE INTO THE YOUR ROOM UNTIL:
A flashlight and a beagle would be helpful to complete this.
1. Pull back the sheets on the beds to check for pinpoint blood spots (brown).
2. Use your flashlight to examine the piping of the mattress.
3. Lift the corner of the mattress, and check the edges of the box spring.
4. Don't forget to check the headboard.
What you are searching for are apple seed looking insects that are brownish in color, but will become darker when blood engorged. Bedbugs will normally be within 7 feet of the bed.
Should you see ANY evidence of bed bug activity, demand another room – far from that one – and begin your examination again. Remember to leave your luggage outside the door. You wouldn't want any uninvited quests to join you on your trip home.
Last, and to me most important, you may need to find a reputable place to board your pet. For some of us, whose little angel has a "DOES NOT PLAY WELL WITH OTHERS" file following him, it's not so easy. And, I ask you, what can you do when you're thousands of miles away and you can see on the Mommy Cam that your Mr. Humpy is actively courting some petrified poodle? (Can they sue me for that?)
Have I made your pending vacation feel more like a colossal hassle than a dream? If so, why not try a Staycation? What's that, you ask? It's when you take the time away from work, and chill at home. No packing, planes, needles, bugs, or boarding. You can sleep in your own bed – and walk around in your underwear if the spirit moves you! And you don't have to be immunized to do it.
Some people, those of us who find it impossible to totally relax, turn their Staycation into home improvement projects. They use their time to paint the house, clean out the garage, organize closets, search the attic. You know, important things that will come up when your children are in therapy.
It's up to you – you can stock pile food and never leave the house, binge watch all the shows you've been hearing about for the last several years. (Spoiler alert – Jax dies!) Reconnect with the people pictured on your screen saver!
Whichever you decide to do, stay or go, relax and enjoy it. Because back at work – someone younger and sharper – has their eyes on your job!
Leave me a comment and keep an eye out for my greatly anticipated romantic suspense novel, ABSOLUTE RECALL, due out this fall
FROM THE POINT ALWAYS, LORI FLYNN